Elaphe Propulsion Technologies, the world leader in multiple wheel drive electronics and electric in-wheel-drive technology for electric vehicles, was granted 7 million euros  by the Slovenian government for further technology advancements. The subsidy will serve as a springboard to secure further growth of this 150+ engineering team towards a higher market dominance in a sector of new mobility solutions, passenger vehicles, SUVs, LCVs, eVTOLs and other applications taking advantage of high torque, high power direct drive motor technology.
ELAPHE – A PIONEER IN DIRECT DRIVE MOBILITY
From the designers of the first high torque direct-drive motor to the world leaders in in-wheel propulsion technologies, Elaphe Propulsion Technologies Ltd. is positioning itself as a pioneer of in-wheel drives for electric and hybrid vehicles. Since its foundation, Elaphe is leading the development of Slovenian policies related to the electrification of mobility and integration into the sustainable energy ecosystem by playing a crucial role in National energy plan preparation for the segment of mobility.
May it be by supporting criteria for electric vehicle subsidies, by informing relevant ministries and government agencies about the potential of electric mobility and other activities, Elaphe is continuously acting on it from 2010 onwards.
In recent years, Elaphe became a member of EPoSS and EGVIA and is now supporting the creation of advanced electric vehicle policies and EU R&D agenda in this direction.
During their 15+ year history, the company has engineered more than 20+ different in-wheel hub motors which were, so far, integrated into over 100 electric vehicles. After hard work, dedication and great team spirit, Elaphe's customers are some of the key newcomers and several legacy OEMs.
E-mobility is booming – and its centre of attention remains on the powertrain choice and corresponding added benefits. Elaphe is well aware of this trend, being recognized as a company that enables mission and user-centric powertrain by eliminating technical powertrain complexities, offering additional safety control functionalities and packaging benefits. While their in-wheel hub expertise oftentimes finds itself on the forefront, part of their focus is on automotive-grade control electronics.
7 MILLION EUROS 
Elaphe would like to thank Slovenian taxpayers for their support and ensure that the funds will be invested in technologies beneficial for the environment as well as for supporting the local community and industry by strengthening the collaboration with local suppliers.
The Slovenian government has seen potential in Elaphe, possessing the right mindset and values – while also delivering results in collaboration with OEM and scale-ups from all over the globe. Since the company strives to be green, smart and creative, Slovenian agency SPIRIT, acknowledged Elaphe as an Ambassador for the Slovenian economy, which was now followed by a Slovenian government grant of 7 million EUR for 2021-2024.
The subsidy was granted to secure Elaphe's further growth and scale-up activities. In the following years, the company is planning to increase its production capacities to meet customers' requirements. Working on quite some projects (while also anticipating an even higher need for in-wheel motors), the demand grows and the supply must follow.
BUILDING A COMPETENT TEAM
In this regard, Elaphe has already increased its pool of experience and know-how; extensively hiring in the last year and building a team of 150+ engineers (in December 2021).
"A subsidy of 7 million in Elaphe's growth gives us an additional confirmation of our team efforts and enables us to grow faster and more efficient. With approaching new challenges and, of course also, opportunities, we are on the lookout for competent team players who are motivated to enable a new era of mobility", as said by Gorazd Lampič, Elaphe's CEO.
There is no doubt, international and local individuals are showing interest in the company, which now includes 17 different nationalities, with different cultural and industry backgrounds.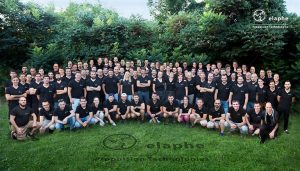 SLOVENIA'S ECOSYSTEM
While Slovenia might be often overlooked on the radar, counting only 2,1 million people in 20,271 km2 of surface area, it has many masterminds – no doubt about it. If we focus on the automotive industry, for now, Slovenia is already on the global map of traction motor manufacturers, having a 2% of total market share, compared to the largest market – China, covering 30 %. Previously discussed on the Iskra ISD Technology Day by IDTechEx, this makes Slovenia the 7th largest global e-motor manufacturer – in the world!
On top of that, Slovenia has high achievers in sports, proven also on the Olympics 2021 to now holding 4th place in gold medals per capita. Also, the country is 6th on the list of most peaceful countries (source: Global Peace Index 2021) and offers a great environment for raising children (source: CIA Landlords).
When it comes to innovations, it is noted that almost half of enterprises had innovation activity in 2016-2018 (source: the Republic of Slovenia, Statistical office) and it remains like that till today. Elaphe definitely fits that scope; being born by renowned physicists Andrej Detela and Gorazd Lampič, to now opening up a new way of vehicle design and its performance possibilities.
Elaphe Propulsion Technologies' future is bright but much more is yet awaiting this Slovenian-born company, working on the most efficient powertrain solutions revolutionizing the automotive industry; step-by-step towards a higher impact. Benefiting not only people but also our beloved planet.