Aptera Motors, a pioneer in solar EVs, and a long-standing Elaphe partner has announced the details of powertrain mass production plans.
Elaphe will manufacture and supply Aptera with in-wheel motors, leading to a 100,000 unit annual capacity at the production centre in Slovenia and further expansion of capacities in the US.
The Elaphe and Aptera story goes back to 2010, but the idea for this innovative vehicle, unparalleled to anything on the market yet, needed to mature as did the market.
A few years back our paths crossed again with a clear and shared vision of our founders: to use each other's pioneering achievements to enable the Aptera vehicle – a synonym for superior efficiency and aerodynamics, enabled by Elaphe's powertrain platform.
Aptera and Elaphe have inked a deal for series production – this serves as a confirmation of our efforts and engineering results. Not only by developing tailor-made in-wheel motors based on the vehicle needs but by supporting them in developing functional prototype vehicles, providing access to the full offering of the Elaphe platform – from motors to vehicle control systems.
All to enable them to be the best and the first in what they do.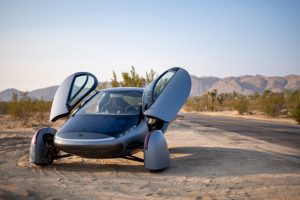 As stated in the original press release (link); Elaphe's technology has allowed Aptera to effectively innovate and build its cutting-edge vehicles at a rapid pace.
And with Aptera's focus on vehicle efficiency, in-wheel motors offer a compact, high-torque solution, allowing for the vehicle's enhanced aerodynamics, lighter overall vehicle weight, and improved handling — resulting in better mileage and safety.
To continue to support Aptera and our other customers such as Lightyear and Lordstown Motors, Elaphe is working on scale-up activities.
With a 36,8M$ scaling plan to be finalized in the period between 2021 and 2024, Elaphe will establish a new 160,000 square foot R&D and production centre, leading to 100,000+ unit annual capacity for in-wheel motors.
We are very excited to work with Aptera as the vehicle is a great fit with Elaphe in-wheel powertrain technology – it both requires and benefits from motor packaging, low energy losses, and vehicle dynamics side of things.
With the fruitful collaboration and ideas coming into reality, we are looking forward to future work on accelerating their green movement.
___
Original press release available on this link.
Follow our story on LinkedIn: here.