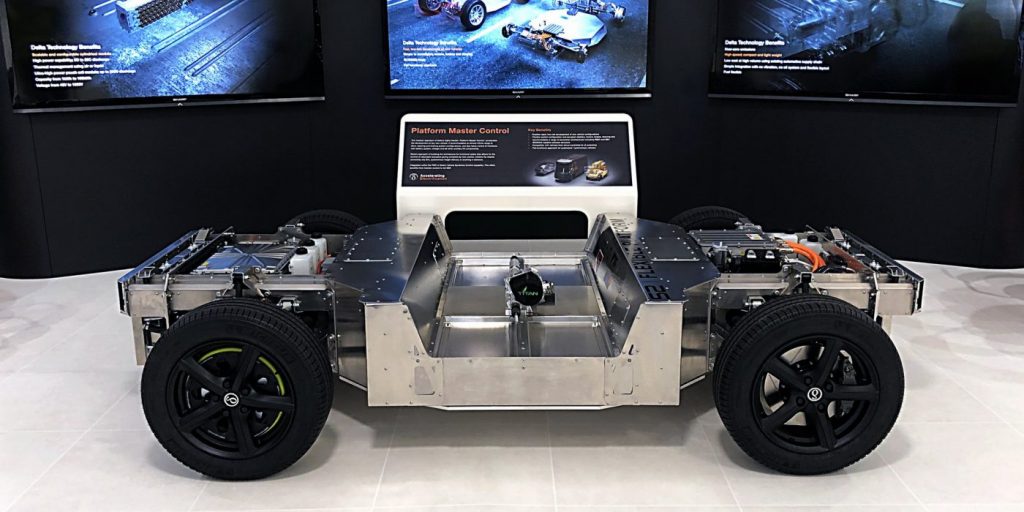 S2 autonomous electric vehicle platform with Elaphe M700 in-wheel motors
At Low Carbon Vehicle Event in the UK, Delta Motorsport presented their S2 flexible platform, incorporating an in-wheel axle based off the Elaphe M700 in-wheel motors and intelligent controllers.
Platforms are the way of the future for the diverse world of mobility solutions, with flexible top hats, multiple application fit and advanced, versatile, modular and by-wire functionality. Elaphe is proud to enable vehicle manufacturers to unlock the hidden potential of modular platforms, thanks to the distributed drivetrain based on scalable and high-performance in-wheel technology.
This autonomous-capable electric vehicle test bed of an aluminium skateboard-style chassis is engineered to allow for complete flexibility in vehicle length, width, ride height and wheelbase. The vehicle is capable of delivering the vision of autonomous driving while the flexibility of the S2 chassis allows the delivery of multiple configurations quickly and at low cost for a wide range of applications.