With the approaching opening of a new investment round and the ever-important business development activities of Elaphe, we set out to increase our efforts of introducing Elaphe tech to the wider US market.
Elaphe presented its tech, team and organization at the biggest consumer tech show in the world – CES 2022. This year, the even hosted more than 2000 exhibiting companies.
The in-wheel electric motor concept is not new at all. But with the at-the-time existing technology, it was only suitable for low-requirement applications, for example, to be used in low-requirement two-wheelers. Elaphe had other plans – to develop in-wheel motors that could power larger vehicle applications. From the moment we started, both the market and the technology needed to mature. Elaphe had been, in this regard, working on pushing the state-of-the-art in the fields of technology maturity, reliability and performance, alongside the tech's ability to satisfy automotive-level regulations.
Booth visitors at CES showed great interest in the progress we've made – and also in discussing a possible collaboration with us. CES enabled us to build more and better business relationships – and gave us opportunity to also nurture existing ones. Many were impressed seeing one of our products in person for the first time.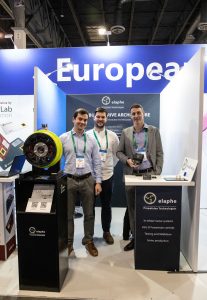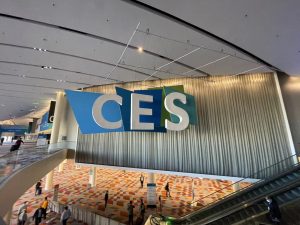 And as you can imagine, the team had a pretty busy trip. With some rocky beginnings such as nearly missed flights and lost luggage, they were, nevertheless, able to successfully present our key enabling technologies and solutions (in-wheel motors, power electronics, torque distribution controls).
The event was huge and to be able to go from one venue to the other you needed to drive (or be driven).
We of course got the association with the saying "go big or go home". It's one we identify with often. And we loved it.  
One could see so many forward-looking technologies. While there were some last-minute cancellations from traditional OEMs that were expected to exhibit, many advanced automotive technologies were still presented. And all together, it seemed that the automotive industry is strongly committed to new mobility concepts, rolling chassis', advanced robotics and more.
And we for sure cheer for this approach! While Elaphe was at first developing only HW (motors), we extensively grew our competences also in power and control electronics, which have become a large part of our key know-how today. We have for a long time believed that control software is the brain of operations, taking the role of an enabler for the multi-wheel drive with its advanced safety and performance functionalities.
After CES, the team drove down to San Diego to meet with our partner, Aptera Motors.
They are developing their solar-powered three-wheeler, focusing on extremely high efficiency on the whole vehicle level. Understanding the multitude of challenges of low-energy-consumption vehicles, they are well aware of all the benefits of in-wheel solutions – and waste no time in using them to further their vehicle's advantage. Elaphe solutions are an enabler for Aptera! It is very exciting to be part of their phoenix-reborn story, and we are happy that all our time invested into development of the technology in the past 20 years is bringing substantial benefits to our partners.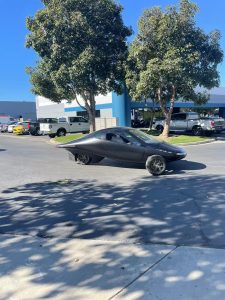 The team continued to travel up the Californian coast, meeting perspective strategic and financial investors, new customers, partners, and OEMs leading the EV market in the Bay area.
We are always open to partners, that provide and cocreate the opportunities that allow us to utilize our knowledge and enable the future of sustainable transportation with new vehicle architectures. Enabling freedom in vehicle design, superior vehicle performance, and unconstrained controllability for user- and mission-focused vehicles is where Elaphe best.
As one would say – the only way is up. And we are glad to be heading in that direction.
___
Interested in weekly updates? Follow us on LinkedIn.