The SCORE San Felipe 250 is a 250-mile Mexican off-road motorsport race, where Lordstown Motors, adopting Elaphe's hub-motor technology, is putting its in-wheel powered Endurance to the test in mid-April 2021. This Baja California's terrain is known to be so brutal and demanding that less than 50% of vehicles actually finish the race!
To prove to the industry that in-wheel (hub) motors are (besides being powerful, safe and energy-efficient) extremely durable, in other words, the toughest e-motors on the market, Endurance will now be challenged with an ultimate test! As Lordstown Motors spokesman Ryan Hallett, said: "We feel that our true all-wheel-drive system—its capabilities and the responsiveness of our hub motors—could provide a dramatic shift in off-road offerings."
This will be a revolutionary event since never before has an in-wheel powered vehicle been in a race on the most difficult terrain you could possibly find.
Elaphe technology the Endurance makes use of is proven to do well in winter conditions and numerous extreme environments during standard "on the bench" and "on track" testing. Nevertheless, the complex conditions in Baja California are very tough – sand and salt can penetrate everywhere; literally EVERYWHERE, challenging the whole vehicle, and how much it can take.
Elaphe is familiar with similar to Baja California sand. Back in 2014, Elaphe in-wheel motor technology passed validation testing against Arizona ISO certified dust. It was a part of the validation process designed to take into account the acidic nature of the dust. Here we go again!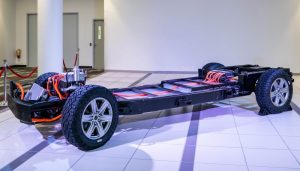 "While in-wheel (hub) motors are about to be challenged, so will the powertrain control that enables new control and safety features, having "a brain inside the wheels", states Steve Burns, CEO of Lordstown Motors. He continues: "Our (LMC) goal is to be the first electric vehicle to ever complete the San Felipe 250, and with the superior traction, weight balance and advanced software control of our hub motor-based Endurance, we are confident that we will do just that."
The BAJA race is soon to start, and so is another step towards the future mass in-wheel motor adoption.
Let's go!