Do in-wheel solutions work under all the conditions? Are in-wheel motors durable enough? Do Elaphe control functions satisfy all the relevant standards?
Elaphe team continuously performs vehicle testing sessions to evaluate the durability, reliability, safety, and performance of in-wheel-powered vehicles.
In March 2022, the team headed to the proving grounds of Arjeplog, Sweden, to tune vehicle dynamics algorithms and perform functional safety tests on Elaphe SUV.
Our prototype SUV showed great results in different conditions – in snowstorms, slippery grounds, forest tracks, and more. See the video below!
Multiple tests were performed, especially torque vectoring tests with direct drive on different low mu surfaces and scenarios such as:
Split mu;
Forest track;
Circular and handling track;
Moose test;
Fault injection;
Grip control at launch on polished ice;
Tank steer mode and more.
The Winter testing session was an opportunity to meet with automotive companies, this being a wonderful opportunity to take them for a spin and give them first-hand experience with our in-wheel technology.
Their reactions were a great confirmation of our efforts in improving the NVH and overall driving feel of our vehicle.
Those are some of the statements of our leading OEMs and Tier 1s collaborators:
"The fat ballerina is clearly heavy but also surprisingly agile when it comes to slalom in sport mode."
"I knew it had potential years ago, but now it's tangible!"
"When you go to Sport mode, the vehicle loses 500kgs."
"The integration is superb, NVH very smooth, very mature."
"The tank steer is just so much fun! "
"Eliminating the transmission is rational for several applications and we are exploring this…"
"Intuitive was the word I was looking for. The car knows where I want to go."
It was not just about testing the motors, but also about testing our software solutions!
And while software enables better vehicle control properties – we also had a lot of fun performing a tank turn mode on the ice surface, perfectly depicted in the above video.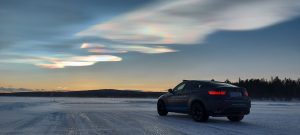 Vehicle testing as well as accelerated bench testing in-house or by customer programs enables Elaphe's in-wheel system to rise way above the competition's concepts and prototypes with a superior level of validation and product maturity.
As good as our simulation flow is, nothing beats the real-life tests in terms of learning, progress, and maturity! And we make sure to have fun along the way!