The project aims at finalizing and testing a safer and modular electric kick scooter (e-KS) for personal urban and suburban mobility.
It presents 2 main innovation levels: on the vehicle side with the development of new features in term of modularity, foldability and improved safety; on the systemic side, the consortium will study and present (a) new business model(s) for a win-win situation for all stakeholders.
The consortium relies on the extensive experience of consortium partners, on key learnings of on-going projects (e.g. H2020 STARS, CIVITAS Eccentric, IMOVE, STEVE, EU-LIVE), main partner core business (Bumpair for safety, Elaphe & Domel for in-wheel motor and motor controls) and on the inputs from an Advisory Group within the project that will involve representatives from mobility managers, local and city administrators and standardization and certification bodies.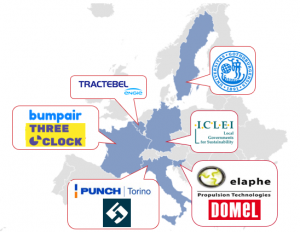 Partners of the DREEM project
Elaphe role, objectives & partners:
Elaphe and Domel are in charge of the manufacturing of the in-wheel motor in Slovenia, with significant improvements compared to current competitors in power, weight and energy efficiency. Both partners will join forces to build a 350W gearless hub motor, with 2.1kg mass and over 92% peak and 85% cycle energy efficiency. The motor will be accompanied by off-the-shelf power electronic HW with minor adjustments for the specific hub motor requirements.
In this innovative project, the emphasis is on safety. The scooter's stability is improved by using three wheels, with a range of 50 km and will weigh just 9 kg, which is quite a bit lighter than the currently available competition (15 kg). The very powerful brushless DC motor is extremely energy efficient and especially light and compact. The batteries will be interchangeable and will support a range of distances from 15 km to 50 km, which will allow the user to choose the optimal compromise between range and vehicle weight.
General information
Project coordinator: PUNCH TORINO
GA number: 101007085
Project start date: 01.02.2021
Project end date: 31.1.2023
Project Co-funded by the European Union's Horizon 2020