Elaphe is part of the DREEM project, also named »Designing useR centric E-kickscooters & business models for Enhancing interModality«.
The project aims at developing, producing and measuring a safe and modular 3-wheel electric kick scooter for urban and suburban mobility, incorporating innovations on the e-motor and on applying modular, foldable and improved safety control and features.
In the project, Elaphe is involved in motor design, joining forces with another Slovenian high-tech manufacturing company, Domel, on building a 350W gearless hub motor,. What is special about this motor compared to other Elaphe motors is its size, mass and power. It is much smaller and lighter and less powerful compared to other Elaphe motors. Of course – it is a fit for a much different application, a kick scooter.
This application required a different design approach, different electromagnetic topology, so Elaphe took one of their own old TFM designs from the drawers and improved it with a few recent developments, making this motor a superior one in terms of power, weight and energy efficiency for the specific vehicle type. There are several technical reasons for TFM superiority agains radial type motors in this specific size and power range.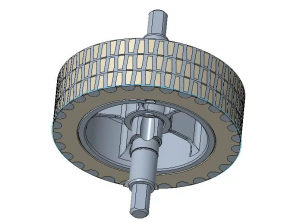 The transversal flux three-phase motor has met the expectations, being 800 g lighter than the comparable BLDC motor and is among the lightest motors in this power range in the world. It is also thermally much more stable compared to competitive solutions.
A few months back, the prototype underwent its first pilot testing on picturesque Turin streets in Italy, in an industrial plant in Belgium, and at the University of Gothenburg.
The official report of the European Union in summary says the following about the pilot testing:
"The Project has fully achieved its objectives and milestones for the period. It has delivered exceptional results with significant immediate or potential impact. In the first period, the project focused on both technical development of the e-kick scooter and business and market analysis…"
And as far as feedback from users in this testing period goes there were many positive ones but also some improvement points that will be taken into consideration and will be properly addressed in the following months.
___
The project involves 10 partners (PUNCH Torino, Elaphe Propulsion Technologies Ltd.,Three o'clock, 5T – Services and innovation for mobility, ICLEI, Bumpair, University of Gothenburg,TRACTEBEL and TOTEM Electric Vehicles) from six European countries: Italy, Germany, Sweden, Belgium, France and Slovenia.
Project coordinator: PUNCH TORINO
GA number: 101007085
Project start date: 01.02.2021
Project end date: 31.1.2023
Project Co-funded by the European Union's Horizon 2020